Be known as the leader who made a difference
for Women of Culture and as Women of Culture Leaders


Women who's cultural heritage is not seen in the dominant culture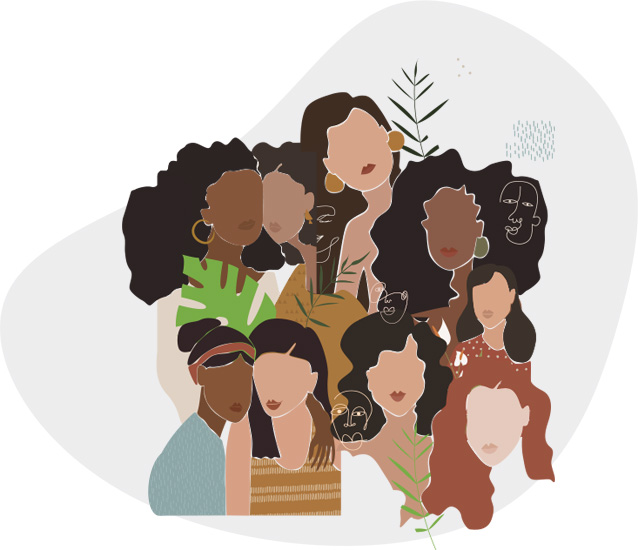 Prevent turnover and enrich your brand with diversity of thought.
You're a good leader. You know diversity will enrich your organization and that it's important to create a culture of belonging. But you're stuck on the "how."
This complicated issue is being discussed in boardrooms across North America. You're not alone.
If you've never felt "othered" by your heritage, you can't know what you don't know. That's where I can help.
It starts with a phone call
The statistics
are grim
As of July 2019, only 3.5% of TSX-listed Canadian companies were led by a woman CEO
Despite having a larger share of tertiary degrees, highly-educated Canadian women earned only 73% of their male counterparts' earnings in 2016.
50% to 69% of Black, East Asian, and South Asian professionals who are highly on guard against bias have a high intent to quit.
At every step up the corporate ladder, women of colour lose ground to White women and men of colour. Statistics show the numbers going from 7% in VP roles to 4% in C-Suite
Gender Wage Gap for 'women of colour' $0.67 for every $1.00 earned by White Men
Women of color continue to lose ground at every step in the pipeline—between the entry level and the C-suite, the representation of women of color drops off by more than 75 percent. - McKinsey 2021
Women of color account for only 4 percent of C-suite leaders, a number that hasn't moved significantly in the past three years. - McKinsey 2021
Kanchan Prinsloo knows how it feels to be longing for belonging.
Kanchan is a woman of culture with more than 25 years of leadership experience in various industries including healthcare, finance, retail, insurance, media, telecommunications, government and not-for-profit. She holds a Master of Arts in Leadership, a Certificate of Executive Coaching, and accreditation with the International Coaching Federation (ICF) PCC
Kanchan designed KaPri Consulting to serve women of culture and the leaders who support them. Through her coaching, Kanchan supports women of culture to realize their fullest and to help leaders understand their role in supporting culturally diverse women.
Help us create belonging for women of culture and

a better world

for everyone.
Select if you are a Woman of Culture or a Leader of a Women of Culture
In our pursuit of success, we often navigate uncharted waters. Especially as women of culture, societal expectations and predefined notions of success can cast daunting...
In a world where diversity and inclusion are championed, it's disheartening to learn that the gender pay gap still exists, especially for women of culture....